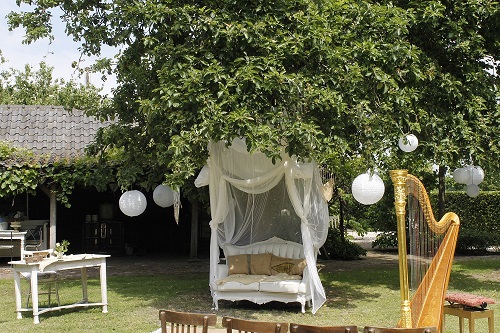 But… music plays an important and positive role on your wedding day. I love to let my harp sound on your wedding. As harpist I have a lot of experience to help you making your wedding day unforgettable.
Hereunder are some possibilities with harp:
Harp music at the civil ceremony (de Burgerlijke Stand-ceremonie), e.g. when the guests arrive, when the bride enters the room, after the "yes" a special solo piece and when you leave the room. And this all stays a surprise for the guests!
Harp music in the church. I can do all the music in the church service, e.g. accompaniment of the singing (psalm, hymns, praise music). Also harp music together with a singer or choir is possible. Harp solo pieces can be heard after the sermon, a poem, before a prayer. And I can also play at the beginning and the end of the service. The advantage is that you don't have to hire an organ or a piano: I take my own instrument! Also handy with a harp is that it can be placed nearly everywhere: inside, outside (if it doesn't rain!) and on places where there's no piano or organ at hand. The harp can be removed by myself and sometimes with a little help.
Do you like the harp, but have some questions? A visit to my house is possible, without any obligation. We can then discuss your musical choises for ceremony or church.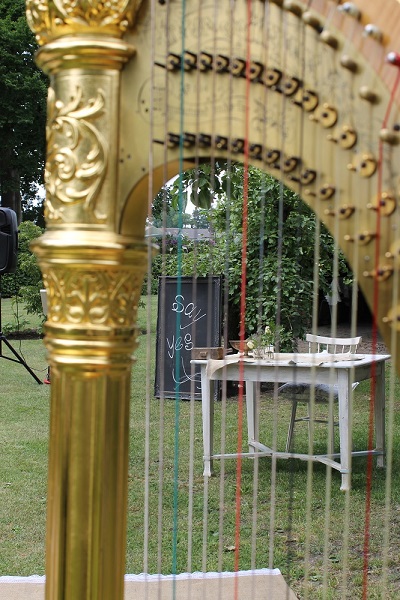 Harp music at civil ceremony or church e.g.:
* entrance of the bride: 
Queen of Sheba – Haendel
A Midsummer Night's Dream – Mendelssohn
Canon in D – Pachelbel
Hornpipe uit Water Music – Haendel
Dochters from Wit Licht – Marco Borsato
* in church accompaniment of the singing e.g. of psalms, hymns, praise music
* in a catholic church service: 
Ave Maria – Bach/Gounod
Romancero de Gitana
Bist Du bei mir – Bach
* solo piece after sermon or signing
see repertory
* at the end of the ceremony: 
Somewhere, someday (Barbra Streisand)
Perharps love (John Denver)
Allegro (Bach)
You can also request your own favourite song or musical piece. I can have a look if it is possible to arrange it for harp. I once arranged a song from e.g. Coldplay, not really standard harp repertory, but a wish of the couple and a nice challenge for me. You can also ask for classical music, or music from Elton John, Celine Dion, Mariah Carey, Shania Twain. If you let me know in time, I can arrange it into a good harp solo.
A singer with harp is possible too and he/she can sing e.g. Ave Maria – Schubert, Panis Angelicus – Franck, The Rose – Midler, Somewhere – Streisand, Laudate Dominum, One Hand, one heart, Perhaps love, When you say nothing at all.
Some reactions after Regina's harp playing:
On the couple's website, some weeks after the wedding: "We got a lot of positive remarks about the harpist. Her name is Regina Ederveen and we will not forget her harp music. A beautiful instrument and perfectly played. The music was chosen together with us and it fitted in the programme very well. Specially for us she started with the music 'Fragile' from Sting." 
"Thanks for your WONDERFUL harp music and accompaniment of the church service of our daughter and her husband. We really enjoyed it a lot and got many compliments from family and friends. We wish you a lot of success!"
"Dear Regina, we would like to thank you for the special, unforgettable day. Also because of you will this day be a valuable memory. Warm greetings, the mother of the bride."