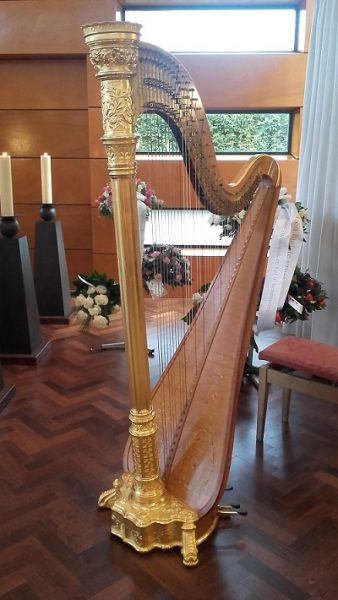 Harp music at the funeral can be heard at different occasions.
– when friends and family enter the church or place, harp music can soften the silence.
– some harp music moments after the speeches.
– live harp music when people walk alongside the coffin.
– accompaniment of singers and/or of the singing from the public, like psalms and hymns.
A harp has the same possibilities as the piano in terms of music, volume etc. The advantage is that Regina takes care of her harp herself, e.g. the tuning and transport. You don't have to care about these things in the busy days before the funeral.
You can discuss with Regina about the musical pieces. Although everything usually is arranged very last minute, Regina tries to do her best to honour your requests. Regina can also perform with one of her ensembles.
Examples:
Church accompaniment of psalms, hymns etc.
Classical
Abschied – Beethoven
Ave Maria*- Bach/Gounod
Ave Maria* – Schubert
Bist Du bei mir* – Bach
Canon in Dmajor – Pachelbel
Chanson Triste – Tchaikovsky
Dance of the blessed spirits – Gluck (Orphée)
Jesu joy of man's desiring* – Bach
Méditation from Thais – Massenet
Méditation Religieuse – A.S. Sweet
Praeludium – Bach
Gymnopédie – Satie
Prelude in Gmol – Schuecker
The strife is o'er – Palestrina
Theme and variations – Händel
Popular
A time for us – Nino Rota
All at once* – Whitney Houston
Candle in the wind* – Elton John
Evergreen* – Barbra Streisand
Fragile* – Sting
Michelle* – Beatles
My Way* – Frank Sinatra
One hand, one heart* – Bernstein
Somewhere* – Barbra Streisand (There's a place for us)
Sunrise, sunset – Jerry Bock
Summertime* – Gershwin
Speed of Sound – Coldplay
The Rose* – Bette Midler
The Sound of Silence* – (Simon/Garfunkel)
To a wild Rose – MacDowell
What a wonderful world* – Louis Armstrong
Wind beneath my wings – Jeff Silbar
Folk or celtic
Greensleeves* (Wales)
Jerusjalaim Shel Zahav* (Israel)
Salley Gardens* (Ireland)
The last Rose of Summer* (Ireland)
Vermeland (Sweden)
Ys en Eliz Izaz (A. Stivell) (Brittanny)
Gospels/Negrospirituals
Amazing Grace*
Deep River*
Just as I am*
Shine Jesus, shine*
Sometimes I feel like a motherless child*
Swing low, sweet chariot*
What a friend we have in Jesus*
Were you there?*
A funeral of a young child
Album leaves – A. Hasselmans
Anitra's Dance – Grieg
Für Elise – Beethoven
La fille au cheveux de lin – Debussy
O Danny Boy* – John Thomas
A fairy tale – Rosa Spier
The Magic Flute – Mozart
Variations on children's songs* – arr. R. Ederveen
Harpcompositions
La Source – Zabel
Ode to the morning – Tournier
Serenade – Salvi
Solfeggietto – Ph.E. Bach
Sorrow and Relief – Oberthür
(the ones with * can also be done in combination with a singer.)